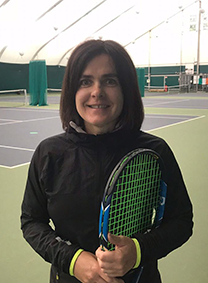 QUALIFIED TENNIS COACH: Level 3
For individual or group tennis coaching contact GALINA MISIURIOVA at:
MOBILE: +353 (86) 348 7280
E-MAIL: gmisiuriova@gmail.com
Galina has coached on the Tennis Ireland National Academy since 2005.
She came to Ireland as a former Lithuanian no 1 who represented her country in Fed Cup over the years.
Galina is a TI licensed coach and has a coaching qualification of level two performance coach.
Background/Playing experience:
Former Lithuanian Number 1 as junior and senior
USSR Senior National ranking 30 ( juniors top 10)
WTA highest singles ranking 620
WTA highest doubles ranking 420
Women's tennis champion of Lithuania 1990, 1991, 1992, 1993, 1999.
Baltic countries champion 1991
Represented Lithuania as No 1 player on the National team in following Fed Cup competitions: 92 Greece; 93 Great Britain; 94 Austria; 97 Turkey; 99 Spain.
Work Experience:
Galina was working for the National Tennis Academy from 2006 – 2020
From 2006 – 2010 she was working and travelling to International TE/ITF events with U14 – U18 players.
From 2011 – 2018 she was mainly working and travelling with U12 – U14 age group of players.
She was a head coach of the Academy Futures program ( under 12) from 2013 – 2018.
From September 2018 to 2020 she was a head coach of the Academy Mini Futures program (under 10)
She also started her work in Leopardstown TC as part of Rob Shulver's Tennis Academy in 2018.
Achievements/ Career highlights
Through the years of my work in Tennis Ireland National Academy, I have coached and travelled with the players who have successfully competed not only in the National events but at the International level in different TE and ITF competitions.
I have represented Ireland as a National coach at TE Winter and Summer Cups team events, at Under 14 and Under 18 European Championships.

– Galina Misiuriova